It's our pleasure to introduce you to our friend, Santo Domingo artist Ronald Chavez, who is best known for his beautiful slab and bead work.
Born on April 20, 1958 to Rosalita and Remijio Chavez, Santo Domingo artist Ronald Chavez learned the craft of heishi making from his parents and grandmother.  Beginning at age 6, Ronald would drill and grind heishi stones that his grandmother would then string into necklaces.  He learned the old way, by grinding and buffing by hand with a grinding stone and buckskin.  While Ronald now uses machines to grind and buff his pieces, he still approaches his work with pride and attention to detail, which is evident in each piece he produces.
Ronald, who has a full-time job with the Rio Grande Conservancy, still finds time to create stunning pieces of art, predominantly made out of stone.  He is most well-known for his slab earrings, ranging from turquoise, to spiny oyster, to charoite or multi-colored, and has the distinction of taking home 1st, 2nd, and 3rd place ribbons at his very first Santa Fe Indian Market competition.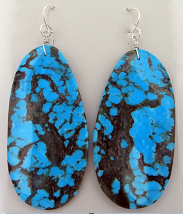 We invite you to come meet Ronald, his wife, and his son, when they join us here at Palms on October 6, 2018 for our Artist Showcase event.  Ronald will have many of his pieces on display, and may even demonstrate the way he learned to make heishi so long ago.  We are proud to call Ronald our friend, and hope you enjoy his company as much as we do.